Covid-19 Collection Station
Assembly Movable and Multi-functional Positive-negative Pressure Covid-19 Self-service Collection Station
Medical staff do not need to wear protective clothing, will not be infected, fast detection, fast disinfection
1.Simple and convenient disinfection. Infrared disinfection device installed inside, the station could be self-sevice disfected before woking and make sure sterile and hygiene. After collection, only need to put the touched medical gloves enter into the disinfectant to disinfect outside, which greatly reduce the frequency and time of disinfection and are helpful to defect much more people in short time.
2. Differencial pressure of inside and outside. Collection station keep higher pressure inside than outside in positive pressure, which could defend the splash get inside and do not need to disinfection inside every time.
3.Arm holes collection. Medical care personnel could collect samples by strech out of the special arm holes and see through the visible quarantine glasses, and directly put the samples in the number boxes after collecting, which greatly readuce the contact area and avoid the risk of infection by touching and breath.
4.Convenient and movable defection. Designed by assembly , station could quicly disassembly and packed to transportation. four-pulley wheel at the bottom are helpful to move and transformation to the designated places to work and greatly raise the detection efficiency.
5.Dimensions: 413″x413″x984″(1050mm x 1050mmx2500mm)
Showing the single result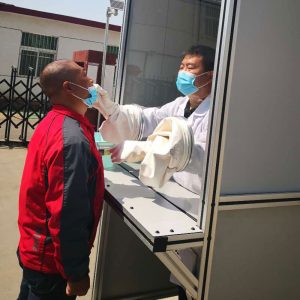 Medical staff do not need to wear protective clothing, will not be infected, fast detection, fast disinfection