CF Stainless Steel Manual High Vacuum Loose Flange Diaphragm Valve GM-DN16
Description:
The vacuum diaphragm valve is used to connect or cut off the medium flow in the vacuum (pressure) system pipeline. Vacuum pressure diaphragm valves are used in vacuum, dairy products, wine industry, bioengineering, food, pharmaceuticals, beverages, cosmetics and chemical industries. The GM series high vacuum diaphragm valve uses the valve stem to drive the rubber sealing sheet and the drive screw to move up and down to shut off or connect the vacuum system in a pneumatic form.
Feature:
1. It is cast from 304 stainless steel, the valve body is integrally formed, and the sealing end has a "convex" arc to maintain the sealing performance.
2. Sealed with fluorine rubber diaphragm, can better protect the valve handle, valve cover and other parts above the diaphragm from corrosion by the medium and have a longer service life.
3. Enlarge the hand wheel, the valve stem adopts T- screw thread, and the bottom is with red copper sheet, which can keep the valve stem and the valve core from friction, convenient switching, good sealing, and there will be no leakage and broken stem during use.
4. With small closing torque and long life.
Connection Type:
The connection forms of the vacuum diaphragm valve are the loose flange connection, the quick release flange connection, and the welding connection.
The welding connection is divided into welding type I connection (that is, welding at both ends), and welding type II connection (that is, one end is welded, the other end is inserted).
Applicable medium:
The applicable working medium of the vacuum diaphragm valve is air and non-corrosive gas.
Parameter:
Material: 304 stainless steel
Connection form: loose flange, quick release flange, welding
Main parts: valve body, raft, valve stem
Structure: DC type
Applicable medium: air
Drive mode: manual
Pressure environment: normal pressure
Working temperature: -30℃~150℃
Flow mode: one-way
Valve leakage rate: ≤1.3×10-4Pa.L/S
Operating pressure range (Pa): 105~1.3×10-4
Seal: Viton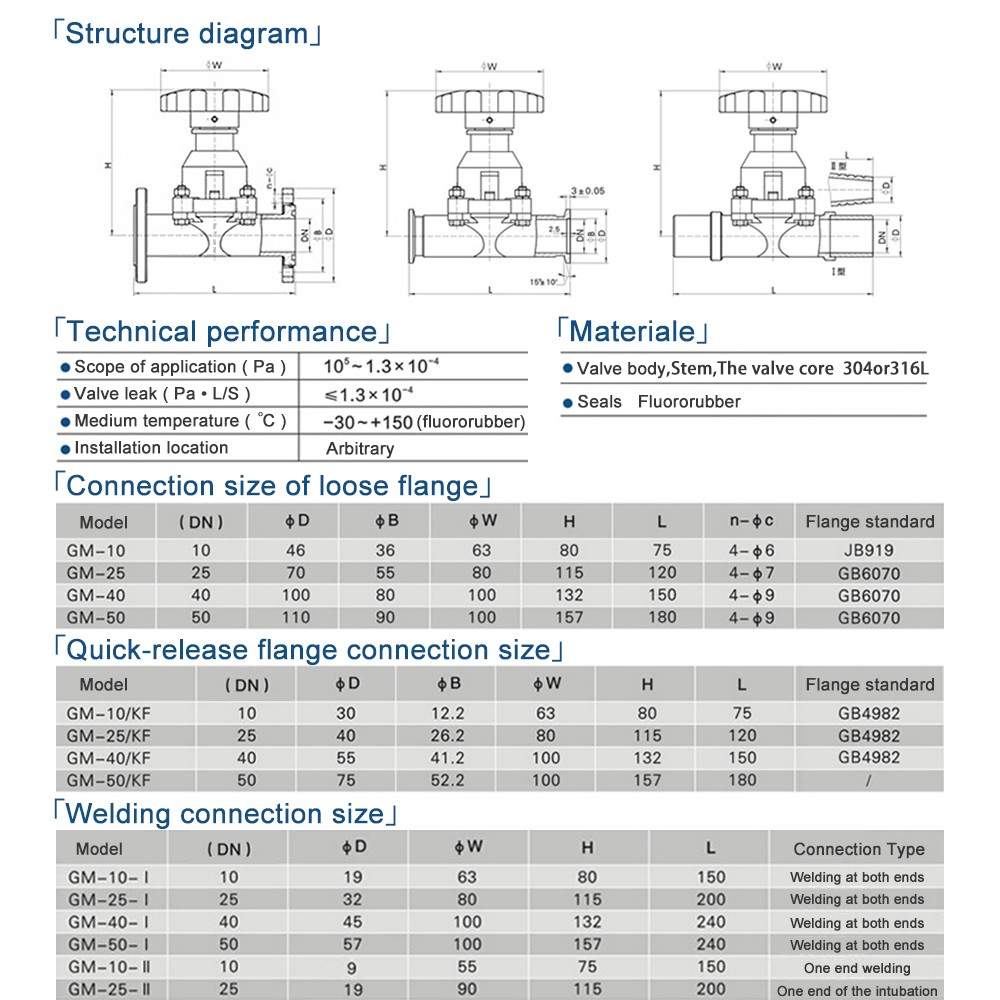 Package:
1*Diaphragm valve