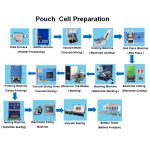 Step 1: Electrode Sheet Preparation
Use furnace to sinter raw cathode active material and anode active material.
Use milling machine to mill materials into smaller-sized particles.
Mix active, conductive and binder material into paste under vacuum using mixer.
Use a coater to coat paste onto current collector to create electrode.
Use a heater to dry the newly-created electrodes.
Use the rolling press (calendar) to roll the electrode to required thickness.
Step 2: Li-ion Cell Assembly