Flexible Bellows NW 160, 4 inch, 100 mm, Vacuum Hose, ISO-LF Large Flange Size NW-160, Stainless Steel
Add to wishlist
Added to wishlist
Removed from wishlist
0
Add to compare
ISO-LF Flange Size: NW-160
Net Weight: 1.98kg
NW-160 Bellows Flex Coupling
Common Dimensions: A =4 in. (100mm)
Materials: 304 Stainless Steel
Application: Vacuum Equipment
Features:
1.High gloss: the appearance of the pipe is beautiful, both inside and outside are mirror polished, the weld is smooth, and the quality is guaranteed
2.Welding process: advanced welding machine, automatic welding, no oxidation, ultra-high vacuum
3.Good flexibility: excellent expansion and contraction, bending radius, flexible short tube for general length <300mm
4.High temperature resistance, negative pressure resistance, corrosion resistance, wear resistance
5.Helium leak detection: Each vacuum bellow has passed helium leak detection, and strictly controls the quality
Advantages
①Leak detection for each bellows helium
②Professional high vacuum bellows
③Standard 304 material or 316L material (test report can be issued)
④Good quality and low price, high price, quality, speed and quantity
⑤Provide all models of bellows KF16-ISO200; 304 to 316L, fast non-standard customization. Welding process, stainless steel material.
These NW 160 Bellows Flex Coupling vacuum fittings follow ISO-LF standards and have a flange size of NW 160. They are commonly used to build foreline vacuum plumbing and process systems. They are often called quick flange fittings because they are quick to assemble. A circumferential clamp and centering ring form the vacuum seal between the connecting flanges (please see top right figure – click to enlarge). The centering ring contains a rubber elastomer o-ring. The standard sizes for quick flange fittings are KF-10, KF-16, KF-25, KF-40, and KF-50 with flange sizes NW-10, NW-16, NW-25, NW-40, and NW-50, respectively. They are made of corrosive resistant stainless steel.
Vacuum bellows is used to pump negative pressure and can only pass gas. Pipes smaller than 300mm are generally purchased at T = 0.15mm. They are compressible flexible pipes. There are both compressible and incompressible pipes. There are specifications such as 0.15mm, 0.2mm, 0.28mm, etc in thickness.
Our company's hydraulically-formed bellows are relatively soft, with quality assurance, the introduction of advanced welding technology, smooth welding seams, various flanges can be welded according to requirements. Non-standard bellows can be customized according to drawings. All bellows can be customized in length and can be processed up to 4000mm. All manufactured products have passed the full inspection of the helium mass spectrometer leak tester and passed the test.
Customized any size, customized 316L material, all orders will be delivered within 1 business day, quality assurance.
Video
Labideal Vacuum bellows hose ss, www.labideal.com
Labideal.com provides all kinds of vacuum bellows hose, KF16, KF25, KF40, KF50, ISO -160, ISO -125, ISO-100, ISO-80, ISO-63.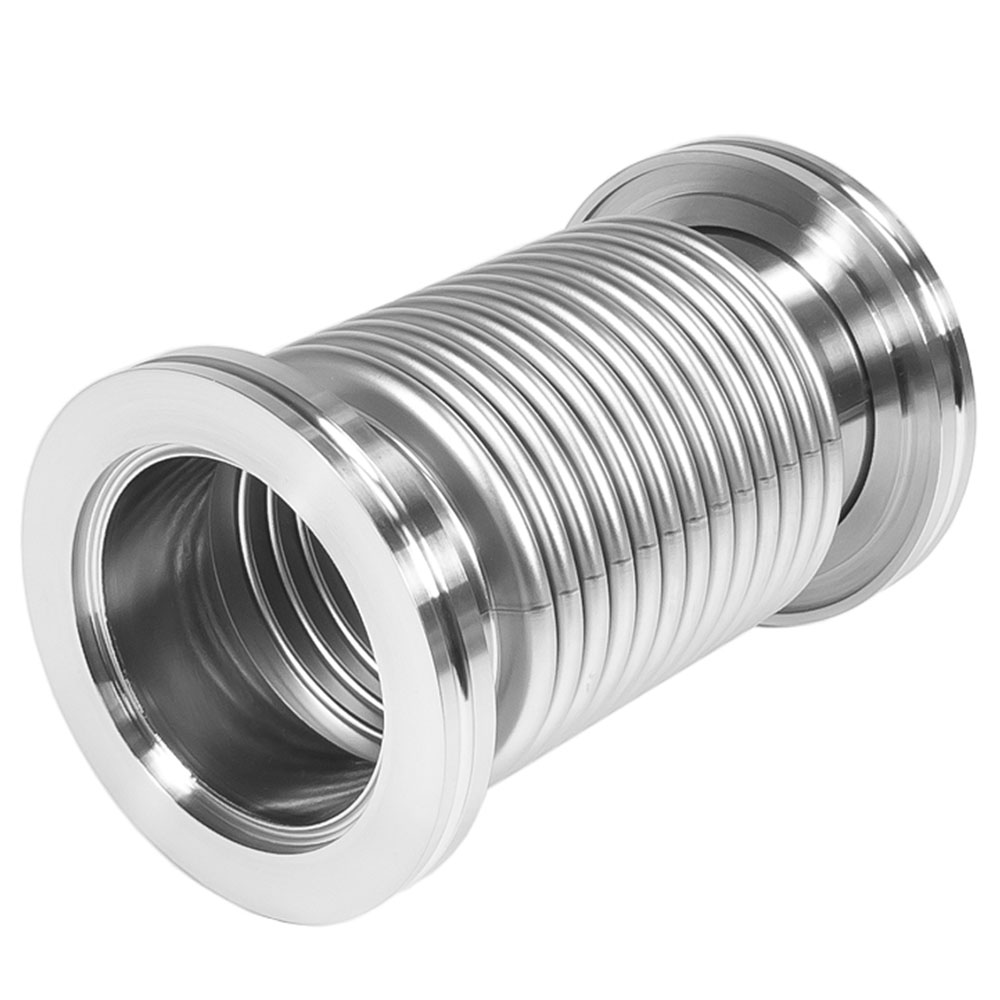 Flexible Bellows NW 160, 4 inch, 100 mm, Vacuum Hose, ISO-LF Large Flange Size NW-160, Stainless Steel