Gear-Drive 4-Liter Planetary Ball Mill 4x1000ml
PQ-N4 series planetary ball mills may be used for mixing, homogenizing, fine grinding, mechanical alloying, cell disruption, small volume high-tech material production and even colloidal grinding. They are the ideal wet/dry milling tools for acquiring research samples with high efficiency and low noise. Vacuum jars may be used to process sample within a vacuum environment.
PQ-N4 planetary ball mills have four grinding stations arranged on the "Sun Wheel" of the planetary ball mill. When the Sun Wheel rotates, the grinding balls inside the jars are subject to superimposed rotational movements, known as Coriolis Forces. The difference in speeds between the grinding balls and jars produce an interaction between frictional and impact forces, which release high dynamic energies. Minimum granularity of the final product can be as small as 0.1 micron.
A timer controls running time from 1 to 999 minutes; it also controls jars' direction of rotation and intervals. We offer various sizes of grinding jars and grinding balls in different materials in our ball mill accessories section. Depending on your application, the material your grinding media is made from may be imperative to achieving accurate results.
 Grinding methods
Single direction without timing (samples need long or non-stop milling)
Single direction with timing (samples need to be milled in one direction for a designated amount of time before automatic shutdown)
Bi-direction with timing (samples need to run clockwise for 1.5 hours, then counter-clockwise for another 1.5 hours and so on, for 15 total hours, before the machine shuts down itself)
Single direction with paused interval and timing (i.e. samples need to run for 0.5 hour, then pause for 1 hour, then run for another 0.5 hour in same direction and pause for another 1 hour, for 10 cycles before auto shutdown)
Bi-direction with paused interval and timing (samples need to run clockwise for 0.8 hour, pause for 0.5 hour, then run counter-clockwise for 0.8 hour, for 20 cycles, before auto shutdown)
Features
High uniformity and excellent repeatability
Fast rotational speed, high efficiency and fine granularity
Four samples with different sizes and materials in one experiment
Leak-proof jars for wet grinding
Large range of materials available for grinding media
Gear-drive offers an effective solutions to problems caused by belt driving, such as belt creep and belt abrasion
Low center of gravity, good rigidity, compact structure, low noise, safe and reliable operation
Adjustable height
Safety switch ensures automatic shut down if cover is opened during operation
Specifications
 Electrical requirements
 110V or 220V 50/60Hz single phase, 2200 watts
 Compatible non-vacuum jars
 1000ml x 4
 Compatible vacuum jars
 500ml x 4
 Operation mode
 Two or four grinding jars working simultaneously
 Maximum feeding capacity
 2/3 capacity of the grinding jars
 Feeding granularity
 Soil materials ≤ 10mm, others materials ≤ 3mm
(If the sample feed is larger than these then it must
first undergo preliminary size reduction)
 Discharging granularity
 Down to 0.1 micron
 Maximum continuous operating time
 72 hours
 Planetary jar rotation speed
 320 rpm
 Unit dimensions
 31 x 18 x 27″ (DxWxH)
 Shipping dimensions
 41 x 23 x 32″ (LxWxH)
 Shipping weight
 360 Lb
 Compliance
 CE
DISCLAIMER
Achieving the desired particles via ball mill is a research project. The project depends on the material, grinding time, speed, and combination of grinding jar and quantity/size of milling ball. It is your responsibility to find the best milling procedure based on your material.  Across International offers paid sample testing prior purchase.
​Please be advised that the paid sample testing is implemented to establish a general base line for the experimental procedure. Depending on the present conditions that are applied to the unit, the results may vary if the process is repeated elsewhere.
Standard package
Part description
   

  Quantity


Part image
 PQ-N4 4 x 1000ml ball mill
 1 pc
 Jar clamping device
 4 pcs
 Stainless steel sieve
 1 pc
 Rubber jar cushion
 4 pc
 Spare motor belt
 1 pc
 Hex L-key
 1 pc
 Ball mill height adjuster
 1 pc
 Spare cap screw
 2 pcs
 Spare fuse
1 pc
 Operation manual
 1 pc
Accessories included: 4 jar clamping devices, jar cushions & space parts.
Running modes: single & bi-directional with digital timing and pause interval
Compatible jars: (500ml – 1000ml) x 4
Final granularity: 0.1 µm
Note:
1. Except stainless steel jars, all other jars must use stainless steel vacuum jackets when used in vacuum condition.
2. Vacuum jars or jackets must be operated with a vacuum pump which sold separately.
Specification:
Gear-Drive 4-Liter Planetary Ball Mill 4x1000ml
| | |
| --- | --- |
| Power | 110V 50/60Hz (no extra charge), 220V 50/60Hz (no extra charge) |
| Grinding jars | No jars & balls (no charge), Four 1L nylon jars & balls (+$1596.00), Four 1L alumina jars & balls (+$1956.00) |
| Vacuum jars/jackets | No vacuum jar/jacket (no charge), Four 500ml st st vacuum jars & balls (+$6396.00) |
| Extra jar sealing gasket | No thanks, Four more (+$37.80) |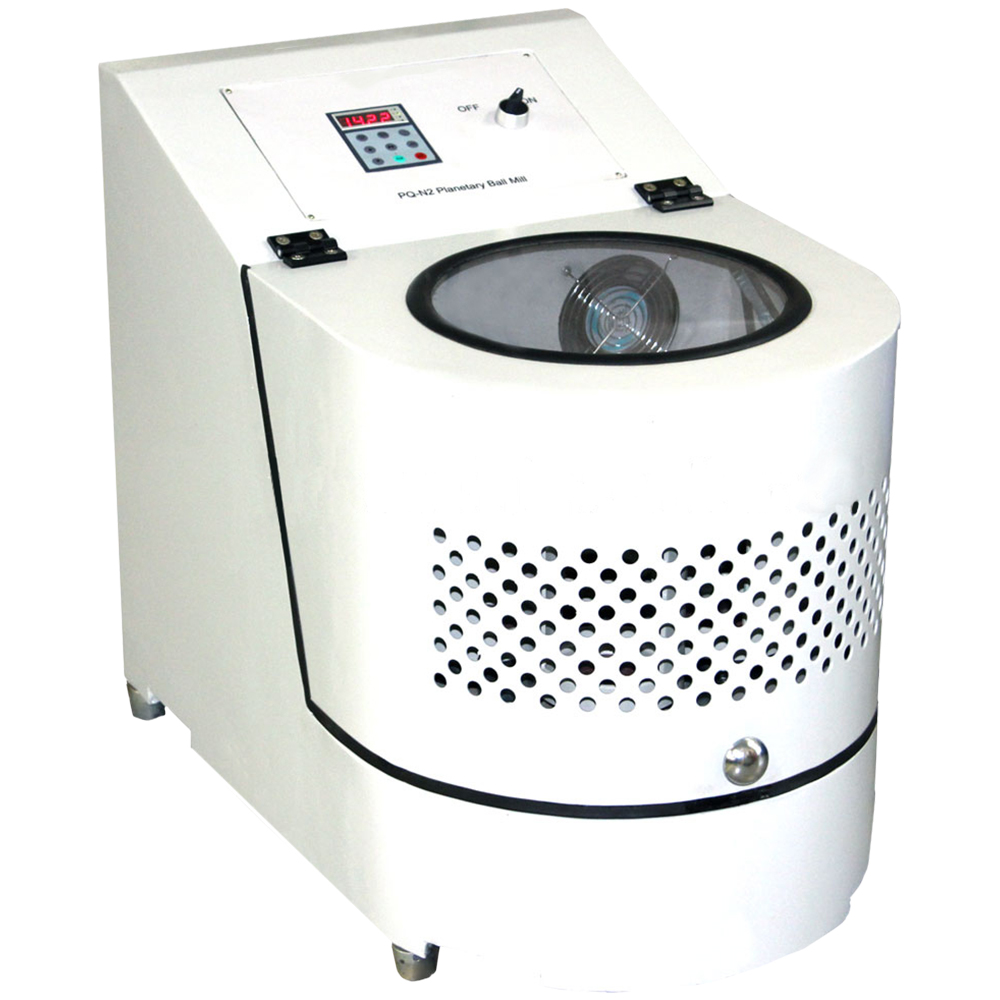 Gear-Drive 4-Liter Planetary Ball Mill 4x1000ml