Fabricated and assembled entirely in our manufacturing facility, these robust, inexpensive vacuum chambers are a highly efficient way for your R&D lab to get into high vacuum applications. With an internal dimension of at least 28 x 28 x 28 inches, all of these cubic chambers are made with corrosion resistant 304 stainless steel plate . These leak-tested chambers are internally TIG welded, and include an O-ring seal, sturdy hinged door, and easy open latch for quick access. Your choice of door includes an inexpensive aluminum door and a stainless steel door for chemical resistance. All plates have a sanded finish and are electropolished on the internal side.
Specifications
Interior Chamber Size: Approximately 28X28X28 inches (approx. 71X71X71cm)
Ports Include: 1x ISO200, 1x ISO100 1x ISO63, 1x KF50, 2x KF40, 2x KF25, 1x KF16
Chamber Material: 304 Stainless Steel
Weight: 680 lbs (308.4 kg) without door
Volume: 13.25 cu. ft. (375.2 liters)
Hinged Front Door: Aluminum or Stainless Steel
Ultimate Pressure: 1×10-6 Torr (High Vacuum)
Leak Tested: (Helium) to 1×10-8 atm cc/sec
Operating Temperature Range (Viton Seal): 5° to 302°F (-15° to 150°C)
Lead Time: One to Two Weeks (7-14 days)
Call for additional porting options
Call for expanded temperature range
Video
DIY Vacuum Chamber Setup
A short description of my vacuum chamber. I use this setup to degas epoxy but it could also be used to degas silicon as well. Quick disconnects can be used ...
Trying to Build a Vacuum Chamber
I really like to run my Tesla Coil in vacuum, so let's build a vacuum chamber, or at least try! Read my articles at: http://www.electroboom.com Follow me on ...
The videos are from Youtube, if there is any infringement, we will delete them, please send an email to [email protected], thanks.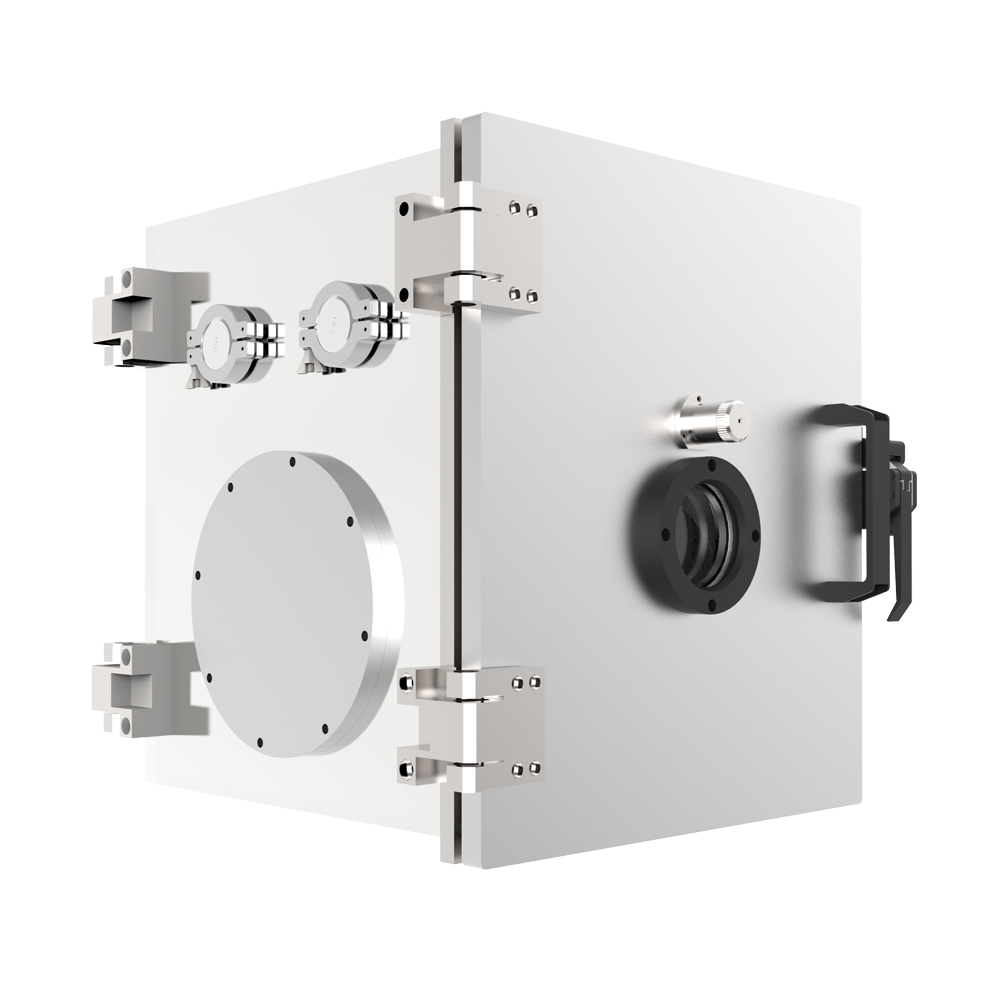 28 in Cubic Vacuum Chamber, Preconfigured ISO and KF Flanges with User Selectable Latching Door, Stainless Steel